Valdez Ski And Avalanche Report – December 10, 2015 – Sugarloaf
SKI/AVALANCHE – With Thompson Pass recovering from winds to 50mph and temps to -7F, obviously stability issues have developed over the past few days. Snowpack retention remains excellent with very little scouring of our deep upper mountain snowpack. Mid-mountain protected areas of course will hold some patches of powder but expect some slab issues to assess.
Today seemed like a good day to venture to the north shore of the Port Valdez Arena and get some Chugach views. Parking across from the hatchery at the entry to the power plant there is a small slot to park out of traffic. From here it was a bush-whack for the first hills and then it opened up a bit to the pipe-scar. Ski-Shoeing? From here it was OK skinning to lower Sugarloaf. I could have ventured higher to better conditions, but chose to do some pit work(see pics and 270 video below). Skiing down was bumpy and challenging, though the "scar" was untracked and pretty good. I had to put my skins on to descend from the "scar" to the trailhead.
WEATHER – Beginning Friday, clouds move in through Saturday. Little accumulation is expected as temps cool into the teens and a nice partly cloudy Sunday. Winds remain light and variable in the short and long-term. Best chance for good snowfall is Monday.
[vimeo width="500″ height="400″]https://vimeo.com/148566338[/vimeo]
A pitting exercise.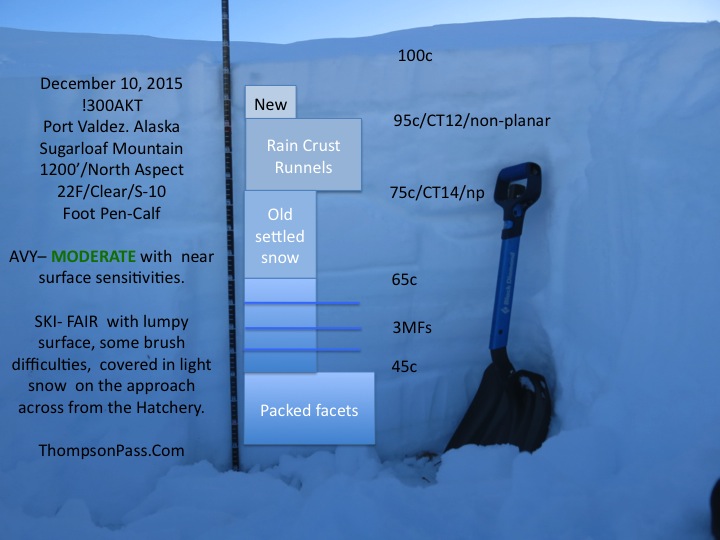 Ohh…I almost forgot …. a view of the Chugach.