Tangle Mountain and a Wolf
The Amphitheater Mountains lie as a unique subset of gentle peaks to the south of the Alaska Range along the eastern Denali Highway. Most of the range lies in the Tangle Lakes Archeological District managed by the BLM folks in Glennallen.  The area has a few marked ATV trails to poach that make for excellent mountain biking. Tangle Lakes also lies within the National Delta Wild and Scenic River Corridor.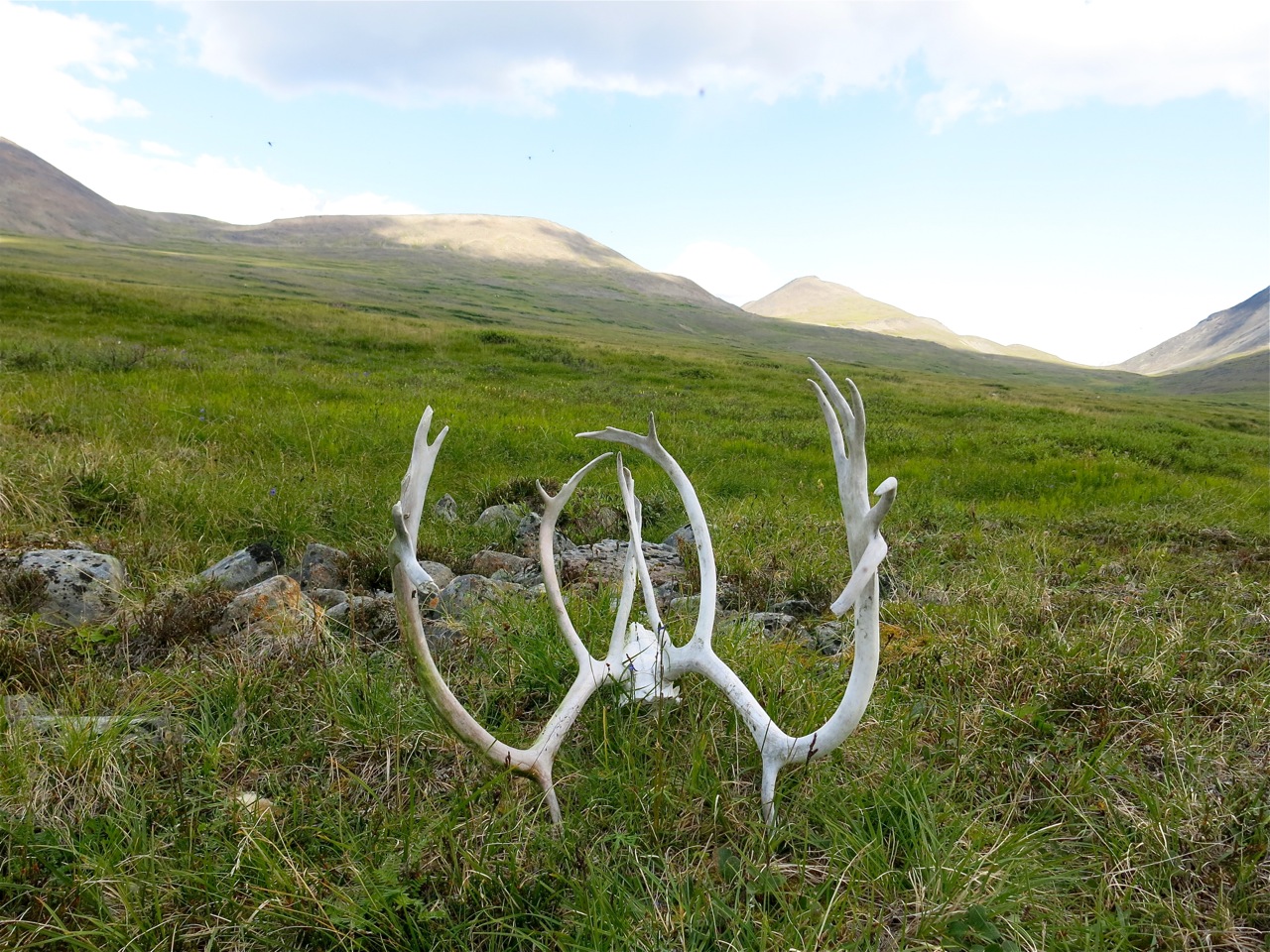 Because we see so few people, it's a place Tabitha and I have visited a number of times.  On previous trips to the range we have been to Basalt Lake and Landmark Gap along with mountain bike rides up the old mining roads along the McClaren River and to Osar Lake.  We've also been to the top of Paxson Mountain. There are very few people once away from the pavement.
Tangle Mountain is a rounded mountain just to the east of the corridor and it seemed like a good objective from previous times in the area.  It's marked on the topo as "VABM Tangle" but not really named by USGS.  With just the weekend to get the job done, we made the three-hour drive north Friday night and set up a base camp just off the highway near Octupus Lake.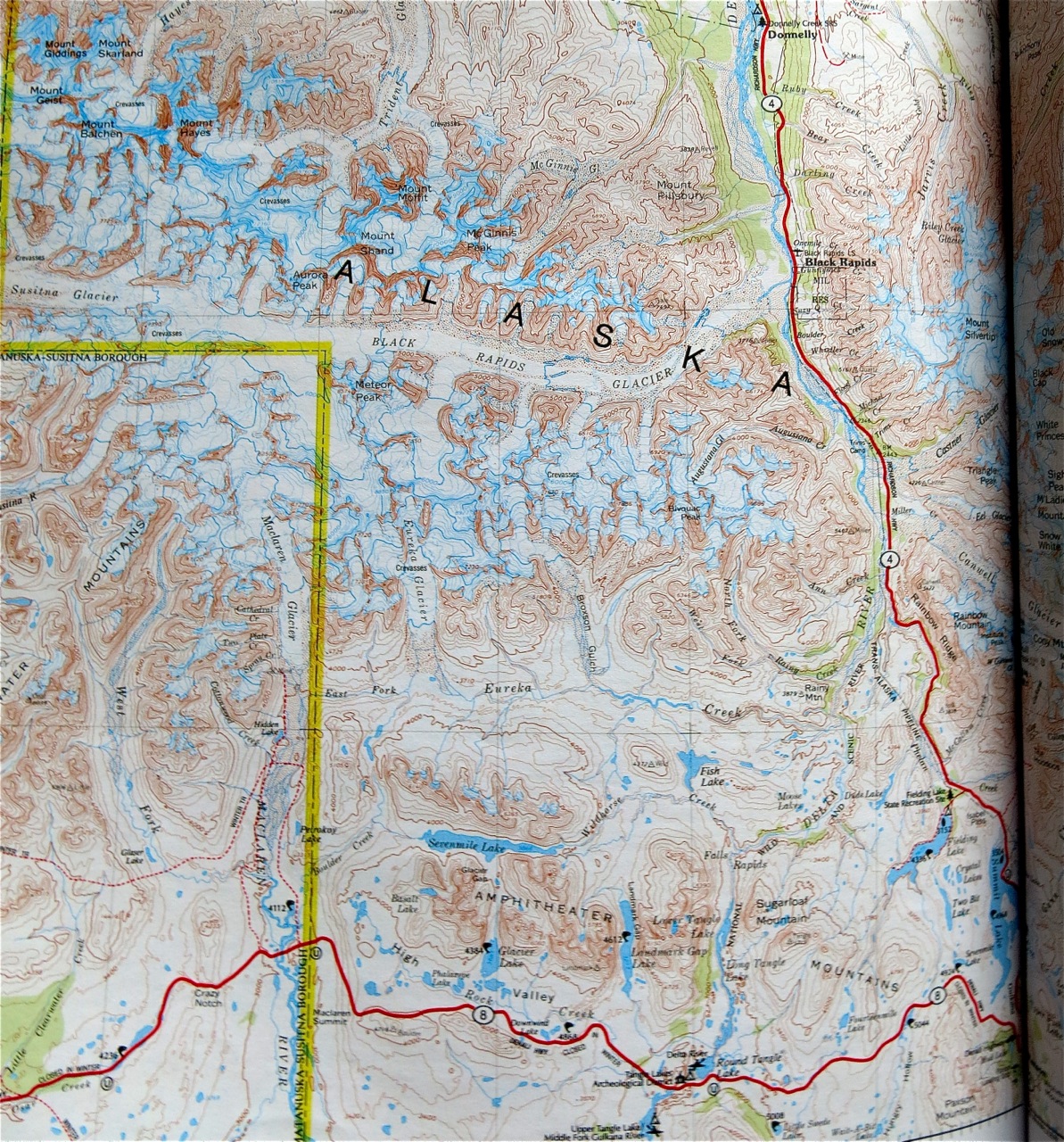 First thing Saturday morning we loaded the backpacks and drove a bit closer and picked a route that looked like it was the shortest distance through brush line.  We followed a fading ATV trail for a mile that left us forced to cross a bog and some willow thickets. The tussocks weren't too bad as we picked our way around brush patches over soft mossy ground laced with patches of rocks and lichen. It can be pretty tiring slugging across this type of terrain. Soon we saw an antler as we "whooped" to scare bears with armed with spray and a handy horn.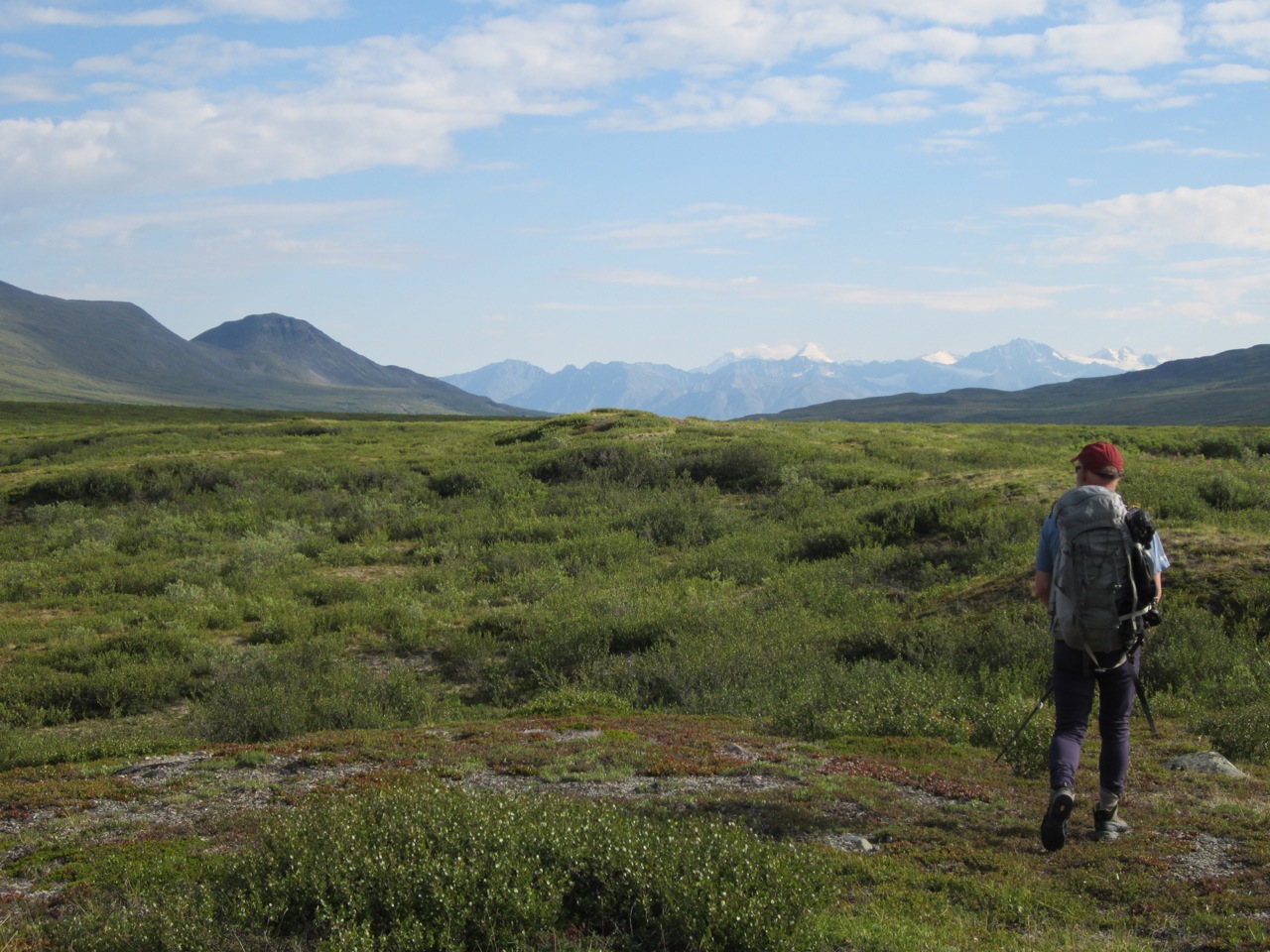 As the terrain spread open around us our "whooping" subsided. Approaching a narrow thicket blocking my bearing, I had no choice but to head through it. Astonishingly, from just a few feet in front of us, a young, white wolf leaped from the dark recesses of the brush. After two or three slow leaps, he stopped on a small bump in plain sight, turned, and stared at us as we stood stunned and excited. For a few moments we watched. He swung his head around and loped away as I quickly withdrew my camera from my waist harness. He came into sight, stood and waited for our intentions. After a few seconds, turned again and strolled along.  The lone wolf appeared to be heading where we were heading, so we followed along at a pace much slower and the animal soon disappeared.
By noon we had our rhythm down. No-see-ums clouded our faces. The sun blazed away all afternoon. A cool breeze blew one way then another. We put in solid miles in a long traverse to a ridge under Tangle Mountain that promised a commanding view of a primitive watershed that eventually drains into the Bering Sea via the Delta River.
We finally arrived to a high soft ridge that made for the perfect overnight camp.  The vastness of the Tangle Lakes watershed lay at our feet while the high peaks of the Alaska Range to the north lay smothered in broken cumulus.  Small curtains of rain graced the broad expanse of everything else within view.
Perfection in planning gear, meals and a route have always been a priority. Bears have always been a concern and we've never had an encounter of any consequence.  So we were simply stunned as we unloaded our packs and noticed we had forgotten our sleeping pads! Bummer, but not a disaster.  We decided to go ahead and summit Tangle Mountain that night versus in the morning, to better exhaust ourselves for the night ahead sleeping on rocks. We still had food, shelter, water and the ever changing weather as thunder threatened to the south and dark clouds brewed and blew past us to the west.
Those who crossed the Bering Sea land bridge traversed this area eons ago at a time when Lake Ahtna filled the Copper Valley region to the south.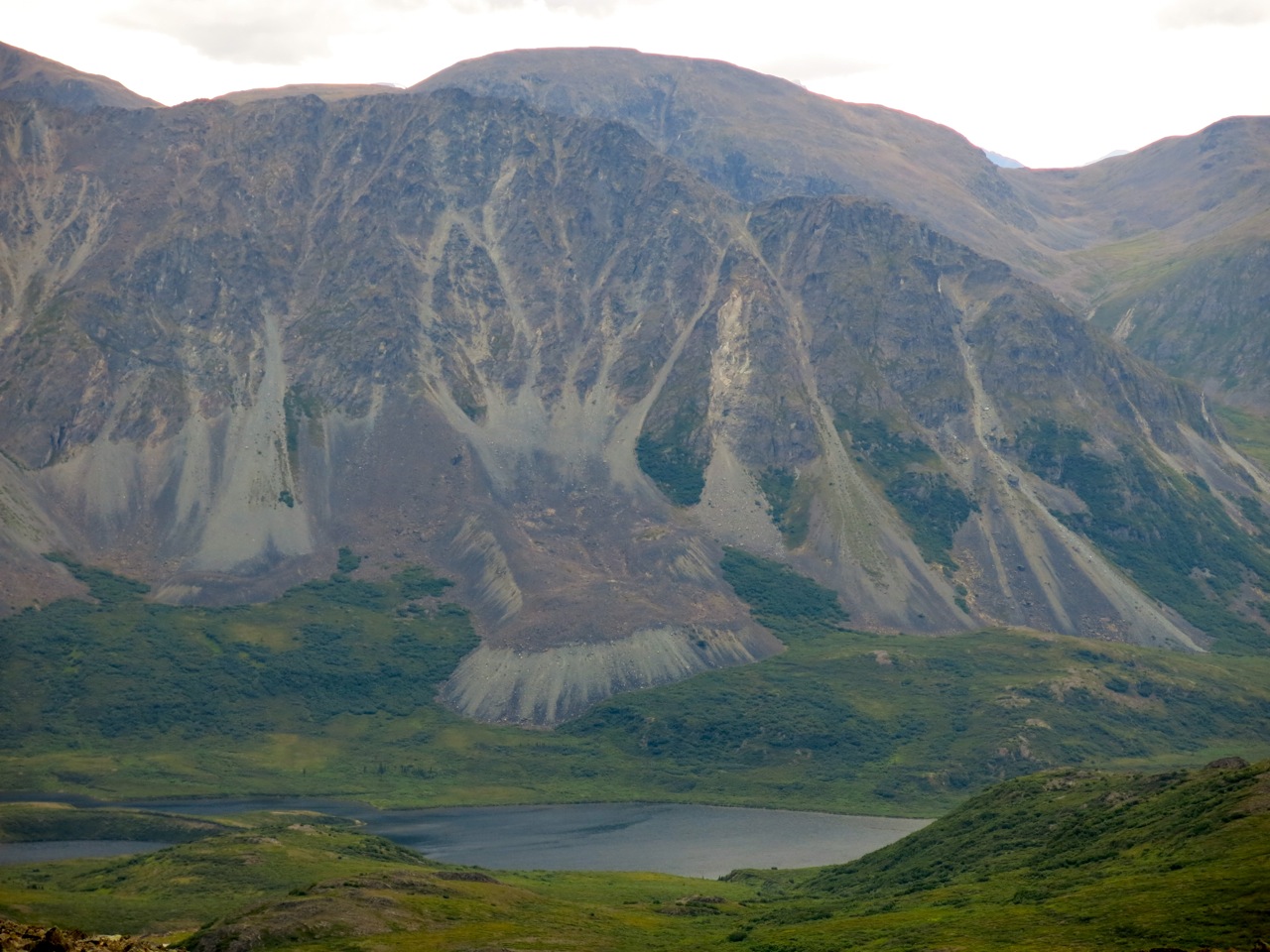 The summit was easily attained as we scampered up and over boulders finding  a flat summit. A nearly 360 degree view was the reward.  A few remains of a modern hunting camp, some copper wire, and the VABM were obvious signs that we were not the first to stand on the summit, though we did hike in from the road. We left no trace.
We scampered down to camps relegated to a fitful night of sleep, but actually the quiet with occasional rain drops drumming upon our tent found us in our bags laying on our "arranged" backpacks with stuff sacks of clothing for pillows. We got a better night sleep than expected.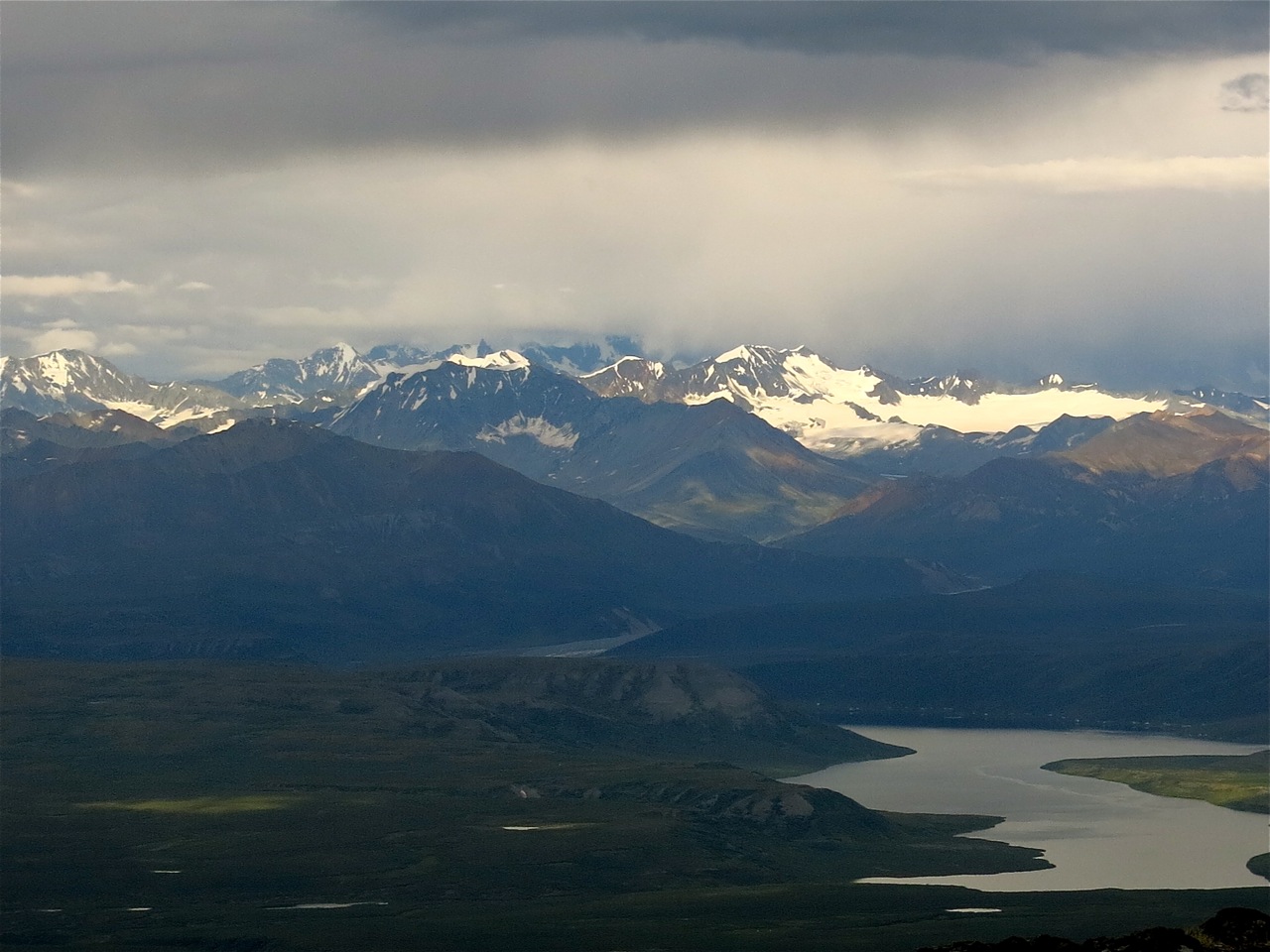 After a quick oatmeal and cup of instant coffee the next morning, we packed it up and headed out. We took a slight variation on the exit in hopes of avoiding brush and that it did.  Occasionally we could drop to our knees and grab a few sweet, fresh blueberries to slow us down and relish the walk as it presented itself as we hoofed our way on small game trails to ease our way. We walked past a family of young Whimbrel standing still in nearby meadow without hesitation and a picture to ease their concerns. Ptarmigan flew up from here and there amidst fields of fresh, alpine flowers.
Pretty simple route by following the more western route of the loops we did. There is plenty of water along the way. We filled up at Clear Creek on the way in.  Bugs? Of course. We saw no signs of bears. And if you find an artifact, note it's location, give it to BLM and keep it to yourself.
If you would like more information on the region for backpacking please let me know.