Special Report – The "Tele Booster"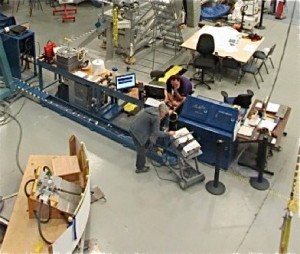 Ok….I got this call from some high tech firm in the USA about tele bindings. After agreeing to future testing in Alaska, I was flown by jet last week to somewhere warm and ushered into a series of metal buildings for intros and diagrams. They had some time on their hands and invited me into the latest project. The amazing "Tele-Booster" weighs in at a paltry 100 grams. No pictures of the binding were allowed as they are really small, one-piece and obviously high tech when you see them. They checked my camera before I left and I had to delete the picture of the Dynafit agent strapped to a chair in the corner being hand fed GU.
"Allen and Mike" worked on the heel piece most the morning. They say they might not even need it. They think their latest laser technology may come to a heel near you that adjusts on the fly. Imagine no reaching back with a pole to flip a lifter. Great stuff. Nice guys who obviously love the sport.
This is the pressurized cylinder for temperature testing of new age metals. Lots of money being spent to develop the latest telemark binding. Millions or more. A woman runs the company but I never saw her, except in the very last pic of the report at the sport rally hosted by the sponsors. They were testing the magnets when I took this picture. It was so exciting to watch for 20 minutes as something was going on that no one could see or hear.
As you can see they are on the leading edge of avalanche search and rescue equipment. Check out the Mobile Stability Tester(MST) made to crawl and analyze layers in any depth snowpack, kicking out a nice waterproof paper pit profile in about a minute. It folds up to fit in your pack. A bit heavy at 7 pounds, but Mike says they can cut it in half.
This is me hanging in the future of backcountry telemark ski wear. It weighs 2 pounds. A one piece temperature and humidity controlled uni-sex suit. I can let this out of the bag as Allen said it was OK. (I did sign the non-disclosure.) The toes connect to the bindings with magnets! Built-in airbag and beacon of course. You can dial in your release "resistance". Who needs boots? I actually fell asleep in the suit and was forgotten for about an hour during the afternoon tour.
Good company though you've never heard of them(or will you). After the tour and dining in a liberal part of town, they were able to sneak me into an NBA game. Here, my pal James Harden pleads a charging foul that shows on replay Dwight Howard kneed me in the nose on purpose as I chased down JeremyLinn, who double-dribbles all the time!
I could swear I heard Coach Kevin McHale say "WTF".
I was promptly thrown out of the Arena as the replay clearly showed I was a telemark skier, not an NBA point guard.
As I was escorted by two burly security guards, the owner of the new "Tele-Booster" patent walked past me, I could swear she struck a tele pose on a rail.
The End
Matt Kinney
April 24, 2014