Ski and Avalanche Report – January 5, 2016 – 1900AKT
Skies opened up today enough to probe around and get some good skiing. First skin was to the summit of Little Odessey, finding it well-rimed and icy near the top.  Dropped the opposite side and found good, but variable snow down to Harveys Ditch.  With blue skies moving in, we headed to Schoolbus and poked around at mid-mountain finding fair to good skiing over textured powder and pesky surface densities. Occasional powder, so it's out there in the right features. Flat light at times. Skinning was very good over supportive snow.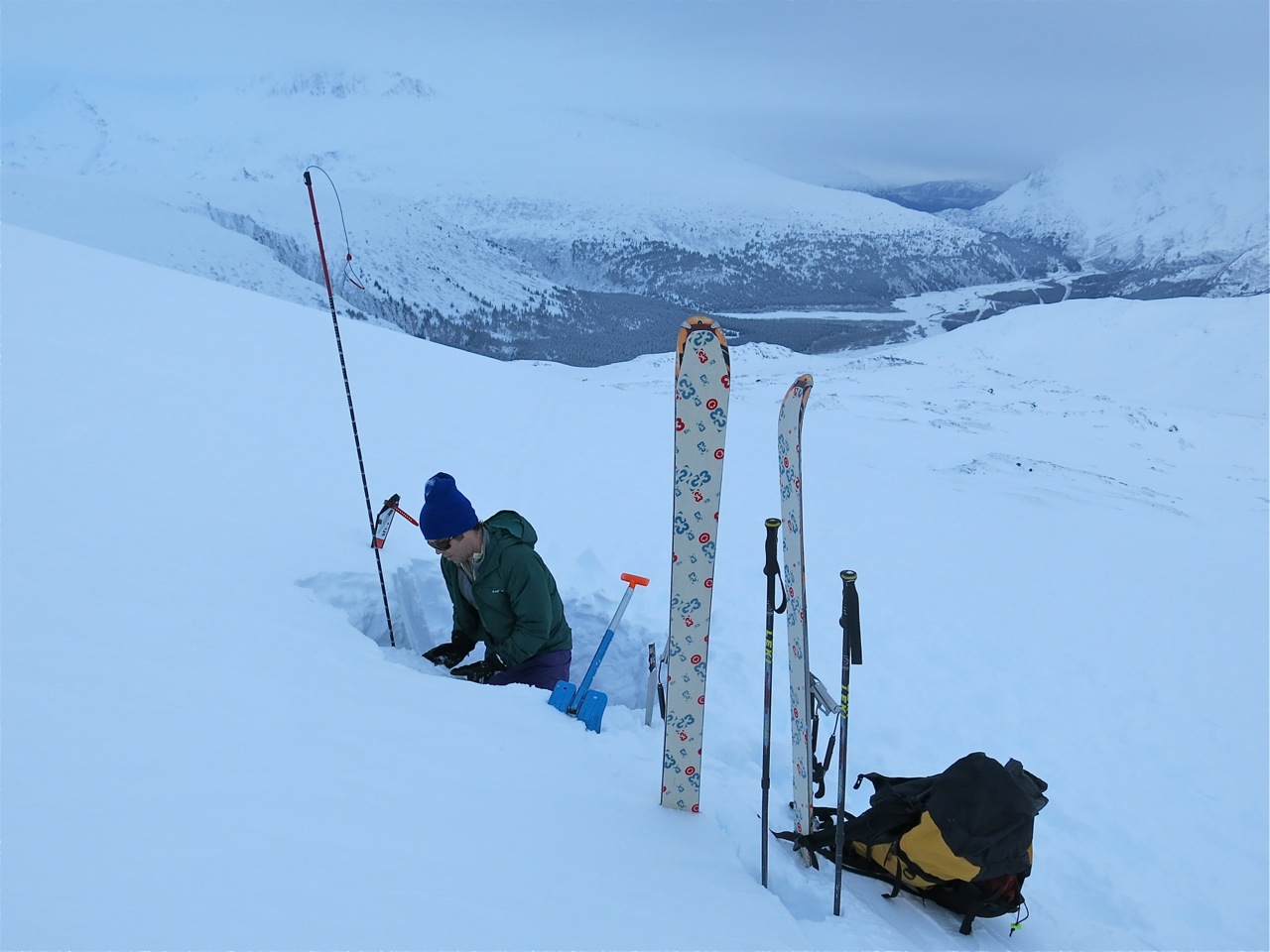 My review of avalanches incidents over the years indicate most caught in avalanches read the local forecast, but once in the field failed to dig pits. So if anything, just doing the exercise will statistically put you where you need to be if your serious about skiing avalanche terrain.  That's the great thing about studying snow in Valdez. Constant storms keep local skinners digging and assessing stability more frequently than most backcountry ski arenas around the world due to our easy access to a variety of aspects and elevations in complicated terrain.
Though I got little indication of instability, there are a dozen aspects and elevations zones to be checked as one circles a mountain. Today I would rate things as "scary-stable" though things have settled considerably and there is the obvious lack of recent activity. We each got a CT25 a foot or so beneath the surface, but ski cuts failed to get any result despite a "clean planar" at the shear.
One more comment on our current snowpack depth of 240cm, measured broadly from Mile 24 to Nicks. The total lack of a singular, northerly, cold and sustained wind period in Thompson Pass has allowed the deep snowpack to occur without the erosive effects of brutal wind events
Weather for the remainder of the week, looks…weak. Mostly mild, occasional, clouds with temps cooling to the upper teens in the Pass.