Mountain Biking – Airport Trail
Kudo's to local rock scrambler Nick Weicht and pals for opening the trail behind the airport runway.  The trail was abandoned many years ago.  It was used as a road from Old Town to the campground and Valdez Glacier.   In the 80's when I worked at the Campground, Chuck Comstock and I pioneered the rocks above the entrance and waterfalls above the day use areas over the course of a  summer.  We also opened a trail from the day use area  to the rock above the entrance and opened the trail to the base of Airport Couloir.  Since then the trail had been forgotten til Nick got the trail blazing buzz.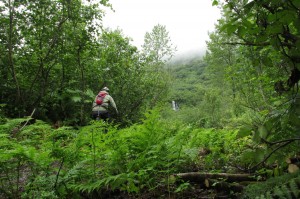 Yesterday I decided to venture down the trail and found riding easy through old cottonwoods dripping in summer ending rain.   Lush green was wilting in the woods and brown stains are appearing on stems and seed pods.   It's a very flat ride of about 2 miles passing a boulder problem with a new trail to the base about 500 yards in.
(1963 topo)
Further down the trail is a spur that ends at a spawning bed for pink salmon.  As I recall in a scramble to West Peak via this waterfall with Rodrigo Mujica, we found ruins of a military recreation camp complete with boardwalks and small building collapsed into the  hillside.   It would be interesting to return in fall and look for any remains.
The trail meanders along the hillside ending near the west end of the airport runway.  This trail is perfect for an easy hike, some trail running or cycling.   Be sure to be prepared for bears as I saw plenty of signs of their presence.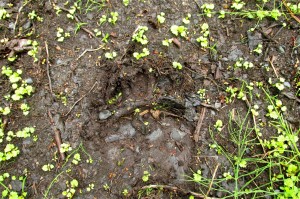 To locate the trail take Airport Road from the Richardson Highway to the Valdez Glacier Campground.   Enter the campground and follow the road past the day use areas and ending against a tall rock berm that blocks entry to the airport grounds.  The trail is on the right and heads east.