Iceland – Part Two – Snaefellsjokul National Park
Our camper truck bucked against gale force winds as we headed north from Reykjavik armed with crampons, skis, snowshoes, and backpacking gear all crammed in a sea bag. We brought everything the two bag limit would allow. One last stop at a Bonus Store supplied us with plenty of food for a week of self-sufficiency. The Ring Road (H1) circles the island as the main thoroughfare for Iceland's commerce and tourism.  While most tourists head counter-clock wise, we chose to oppose the norm in hopes of less traffic in destinations off H1, and this was a good choice.  The road is little more than a narrow, two-lane strip of pavement with few pull-offs and no passing lanes or shoulders for the small cars everyone there seems to drive.  The road bed is built up well above grade with steep sides.  Fortunately for me, Iceland is a European country that drives on the same side of the road as the USA and the signage was an easy code to break. There are no billboards. So, after a few hours of driving we exited the busy Ring Road and headed west on a more narrow strip of pavement to Snaefellsjokul National Park, an elongated peninsula dominated by a high, active, ice capped volcano spilling towards the Atlantic off the main volcano system in the central highlands.
Dotted across the barren farmlands during our journey, small, country churches sat perched eternal-like in open meadows with dramatic backdrops.  All were similar in design, but colors varied.  Sheep farms dominate Iceland along with horses, hay, and of course, lava fields.  As summer arrives all the golden-brown grasses evolve quickly to lush green hues, much like Alaska, with lupines lining the byways and heathers intruding the mountain meadows.
What became immediately noticeable and somewhat of a complication was the forceful winds and still snowy mountains from the lingering winter.  This pretty much eliminated any backpacking ideas and relegated us to long day hikes around the foothills from our mobile shelter as we traveled around Iceland.  We still visited some amazing places few visitors experience. Patience with weather windows dictated ski days in Iceland. We saw many tenters with small cars struggling in camps against brisk winds and rain at times.  There are no trees to break the wind, nor many significant mountain ranges to break up storms.  Rain in the south means clear in the north and visa versa as the island nation sits just below the Arctic Circle in the North Atlantic.  All of our hikes had us in multiple layers of clothing as temperatures varied from freezing to 50 degrees. Clouds were always present. Sleet came a time or two.  It's the only place I have ever visited where the weather actually changes every five minutes.  My research on Iceland's climate for May was the primary reason we decided on a camper truck for this time frame of travel. Most of our hikes were surprisingly dry and sunny has you can see from the pictures in the following reports.  The Iceland government maintains excellent weather forecasting with an impressive number of highway webcams that I followed for months prior to our departure. Their avalanche forecasts are a practitioner's delight, being short and concise.
These two guides were excellent sources on the culture and geology of Iceland.  They are well translated and provide good primers on their respective topics and were both good reads in the evening. The History has a great story of settlement since 800AD along with stories of people adjusting to the great forces of the earth around them.  Icelanders call their Congress…Allthings.
This National Geographic map was excellent for trip planning and the scale was good enough for finding routes.
Lonely Planet's guide worked for trivia about many communities.  Both the book and map had small errors that will be fixed in the next editions.  We didn't get lost and never felt like we needed a human guide.
After a rather white-knuckled drive we arrived exhausted for the night at a small pullout  just before Arnastapi (CAMP 1) and camped there on a whim.  Because it had a trailhead, it ended up being the right place for our first day of hiking.
The weather eased up a bit as morning grew, so we wandered to a massive rock feature sliced with vertical cracks to investigate.  Soon we realized it was a steep, slot canyon carved from lava flows, then growing smoother with melting snow, dominated by gulls nesting on the natural results.
Wild spot.  Fortunately there was enough guano on the slippery, steep, firm snow in the slot canyon. We ventured quite far up and enjoyed the rookery cacklings amongst the green mosses and melting ice. (I have some great video of this canyon for my final report.)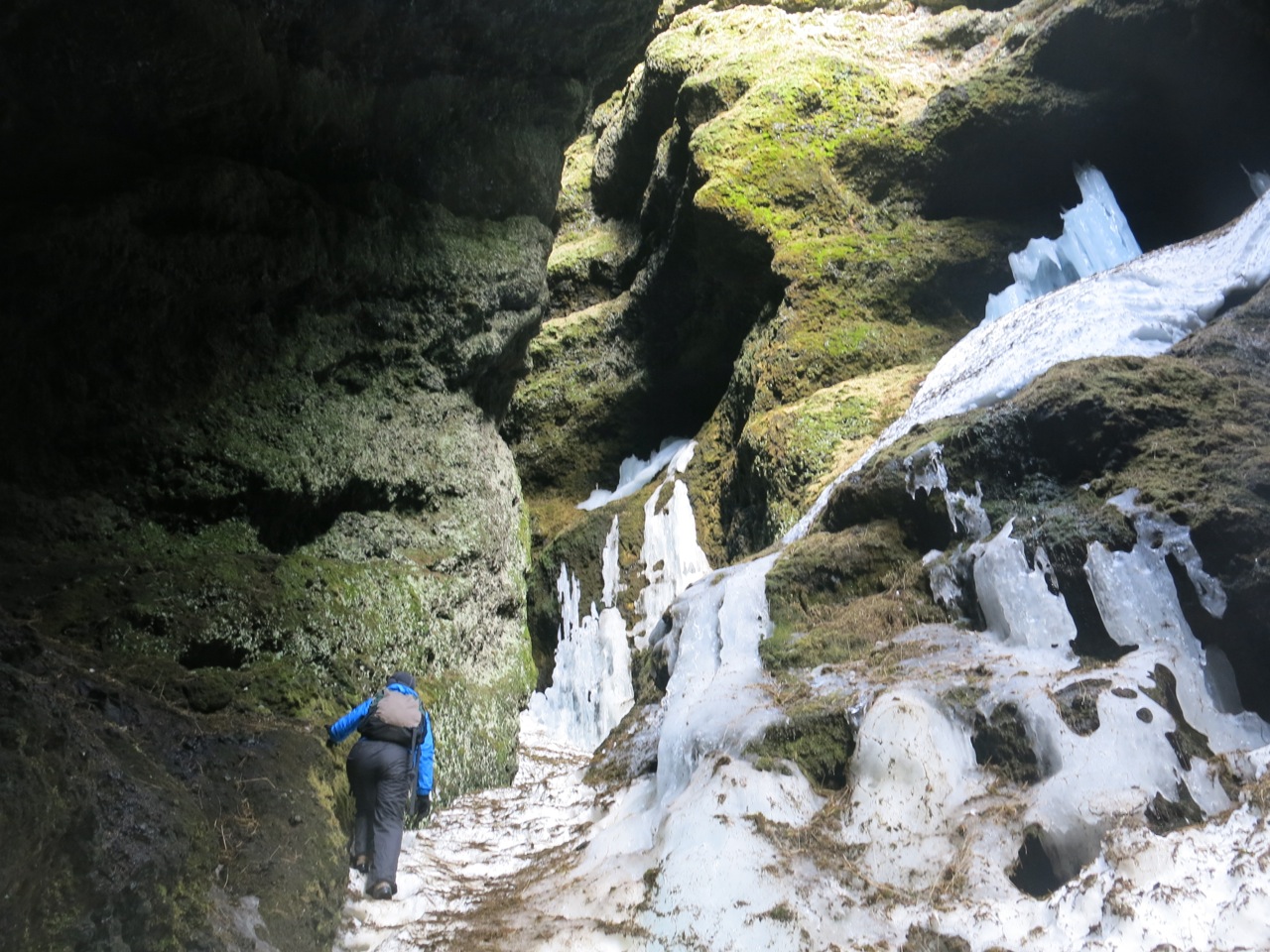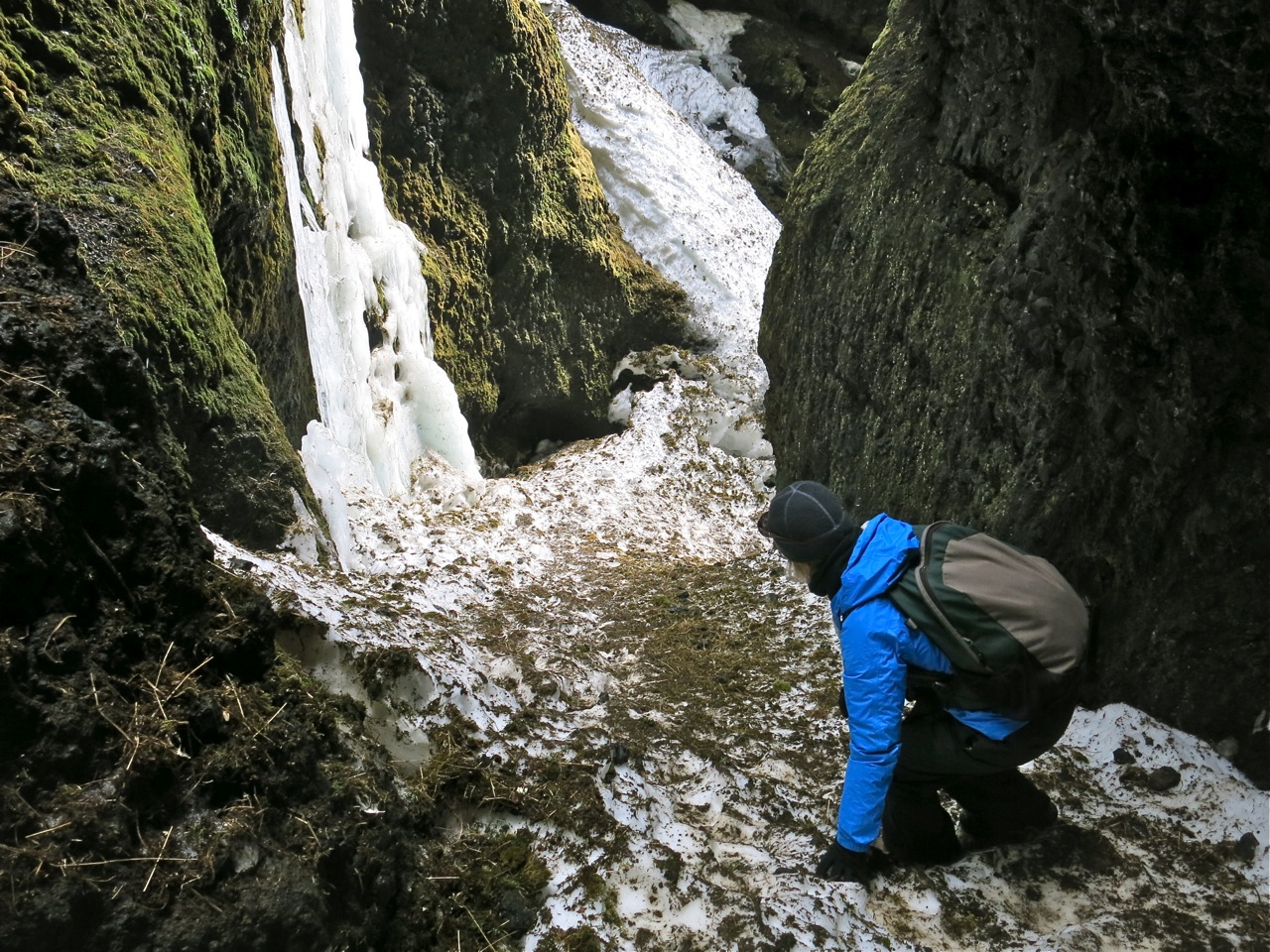 We made quick work of the canyon and exited, wondering where to go next.  Up sounded good, so we began a high traverse to a bench to the south of Sankula to check out snow conditions.  Eventually we stepped on to vast snow fields in spring conditions which was a good sign for skiing later in the trip, but bad news for backpacking.
We headed back down enjoying the views of the wide fjord to the south.  Lenticular clouds hanging along the coast served as a good warning of the turbulent and windy weather we would encounter in the Park.
After lunch at the camper, we decided to hike down to a distant beach for some birding, finding our own way without trails through tussocks, steep rills and crystal-clear water, sunny skies and less wind.
Once on the beach, as with most places along the coast, bird-life abounded.  We saw a common seal hunting along the shore and explored a waterfall that allowed one to walk into a cave behind it. Off in the distance a larger foss poured off a sea cliff at low tide.
With a full-day of hiking behind us, we set off on the road carved through massive lava fields to circle the peninsula and spend one more night in the area. The Park is truly worth visiting for hiking and 2-to-3 day treks, and it's only about 3 hours from Reykjavik.
We found and soaked in the community swimming pool in Olafsvik, a quaint fishing village on the north shore.  By evening we had wandered up a dirt road that indicated some ski possibilities on our map.  Tabitha and I camped (CAMP 2) for the night surrounded by snow, with clouds to the south and gusts to thirty and the Atlantic Ocean far below.
Inside our metal shell we had gas heat and a cooking stove so were quite content and glad we had brought our down bags. The morning sunrise brought sleet and high winds so we secured the camper and headed to the remote West Fjords as it was our pre-planned best bet for skiing.
Next : Skiing West Fjords