ChugachFit V.7
Hopefully everyone has been out all summer enjoying the great outdoors with a variety of activities. For me this included biking, hiking and an occasional backpacking trip. With ski season just around the corner, I am focusing on October 15 as my start day. Like the Boy Scouts say "Be Prepared". Then it's game on, up, and down.
But before all that enthusiasm, it's important as a backcountry skier to work on leg and core strength because not only do we climb mountains, we have to have the endurance to turn around and ski back down in control. Throw in my own challenge of telemarking that same run, you can understand why I begin to panic more than most! A focused approach is needed in the weeks before first tracks to insure your conditioned to charge into the season, not crawl. Those first turns and the many that follow in early season are numbered, but by November's fabulous powder, your on step doing long fabulous runs in the Pass.
The most important benefit to preseason training is prevention of injury. Backcountry skiing is an impact sport. Injuries are more common early in the season and more so the first day or two.  Specific ski training will prevent many of these common and sometimes, season ending injuries.
I target September 1st as my start date. Over the past 5 years I've entered the weight room each fall and, based on my past career as a wrestler and later coach, I have come up with my own brutal creations.  At 4-5 times a week for 6 weeks, the past results have produced early successes on many of my favorite runs and without being thrashed the next day. I gave up skiing myself into shape because I was missing more Chugach vertical as a result and thus an annual ritual of being a part-time gym rat.
Jump Rope
I'm into the jump rope. It's great for the cardio. It's simple and incredibly efficient. There is no impact on your knees. Three minutes of rope work is equal to nine minutes of running at a moderate pace. Unlike the impact of running on your body, your arms and hands also enjoy some dynamic action. Last year I started off at thirty second sprints and built up to a minute by the first ski day. This year I have cranked it up to one minute to start. I get a full nine minutes at a high pace, 3 minutes more than previous seasons.
Free weights for free skiing 
Weights have always been a big part of my life.thus it was easy to modify a few of those exercises to more specific ski muscles. In the past I've used a pyramid workout, but this year I'll keep one weight through my workout. I only use the curling bar due to it's versatility. After about 3 weeks I add another five pounds.
"Lunge-a-marks" imitate telemarks by squatting not spreading.
The basic squat though you should go a bit lower.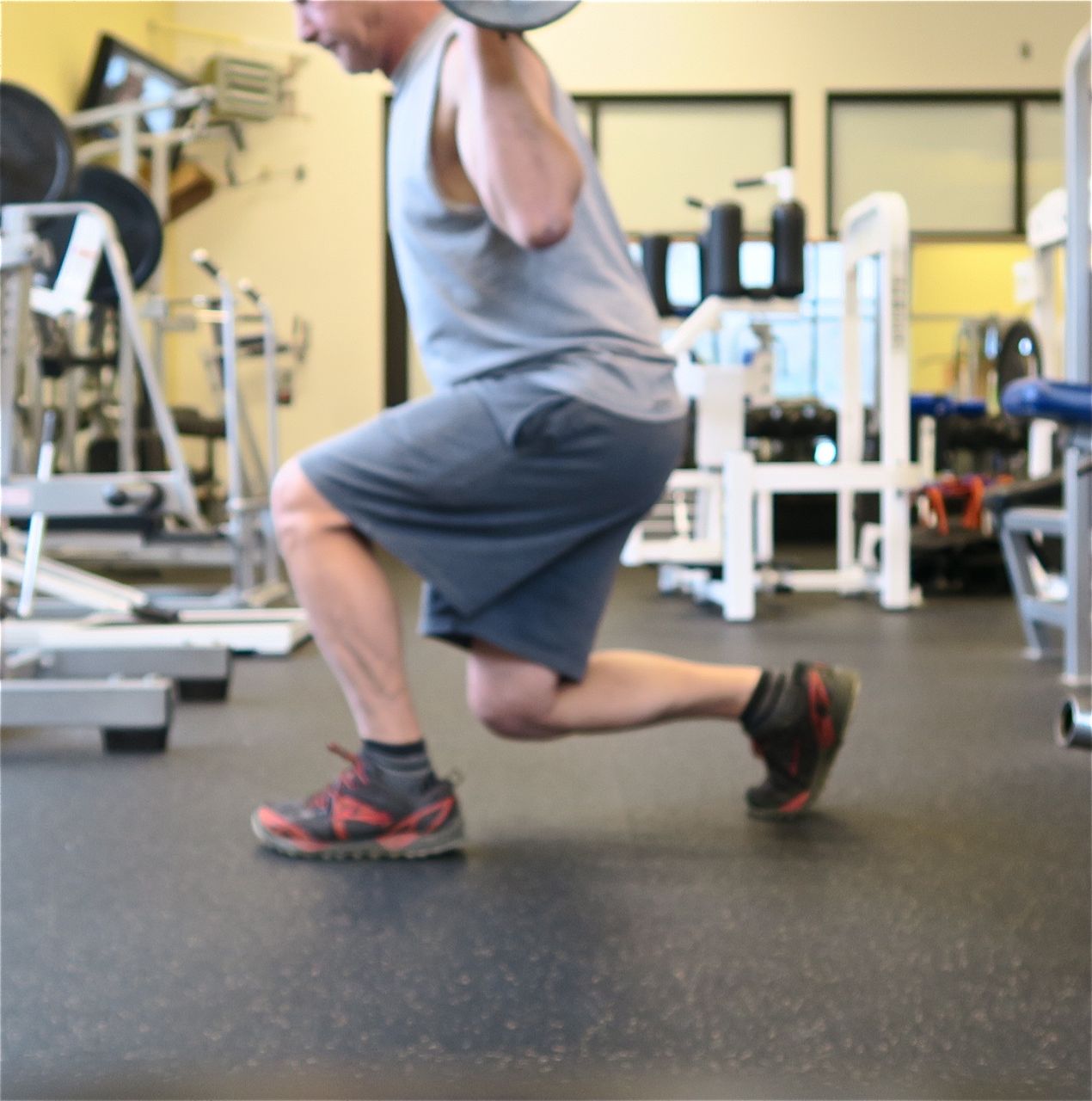 Lunges with pack weight equivalent.
Pull-Ups
I haven't done pull-ups in years. A month ago I could barely do one. That embarrassing situation has me focused on being able to do 10 by October 15th. I like doing 5 at a time and using the machine to get my muscles tuned before I jump to a free bar.  If I can't finish five repitiions, then I pull up as far as possible and hold for five seconds . This slowly builds your reps. I used to do 50 in quick sets of five, reversing grips each cycle based on this method back in the day. Once I can do 5 each way then I will start working on doing 10.
Anyway this is what I do and I thought I would share it with my readers. Each of us can get creative and come up with a program that strengthens legs and increases cardio. Hopefully this will motivate you to do some extra work as the season approaches.
ChugachFit V.7
The routine consists of moving rapidly through of 9 sets broken into 3 rotations. You get a 2 minute break after the 3rd and 6th set.  When you are done with the rope you quickly move to the lunges which is about 25 pounds (pack weight)on a curling bar. The curling bar is also used for your curls and presses.
On each rotation you rotate forward and reverse lunges with the squats, with the curling bar on your shoulders. On each rotation you rotate pull-ups with curls and presses.
When you are done with a set, you look at the clock and start the next set as the second hand hits 12. This keeps your heart rate UP.
It take me about 45 minutes to finish 9 sets and I hope to boost it up to 12 sets which would be closer to an hour for this cross-fit routine. If you mix in a bike ride or some laps at the pool later in the day good on you for a two-a-day. Since it's a short workout, you will have to cross train on opposing days or on the same day. All in all you should be working out at least 5 days a week.
CHUGACHFIT V.7 SERIES
3-4 times a week
9 minutes of jump roping
180 lunges with pack weight equivalent
50 pull-ups
120 curls and pressea
3-5 times per week
45 minutes (or one hour by adding 3 more rotations)
9 Sets
Rotation 1
1 min jump rope
20 forward lunges
5 each pull-up and reverse pull-ups on machine(max) or bar
—–30sec break—-
1 minute jump rope
20 vertical lunges
10 each – curls/ french curls/marine press
—30sec break—
1 minute jump rope
20 squats
5 each  pull-ups and reverse pull-ups on machine or bar.
—-
Rotation 2
Rotation 3
2 minute break
Rotation 4, 5
Rotation 6
2 minute break
to….
Rotation 9
etc……