Backcountry News
I will be attending the Northwest Avalanche Center Snow and Avalanche Workshop in Seattle at the University of Washington on November 8th. The speakers list presents an excellent opportunity to hear from experts in the field including Mike Hattrip, Pascal Haegeli and Martin Volken. I'll file a report when I get back on what I learned from a workshop focused on backcountry skiing.
It would be great to see something like childs climbing wall added to the nicely installed playground equipment.  I spotted this in the Westfjords of Iceland at Isajaford, well placed in the elementary school playground.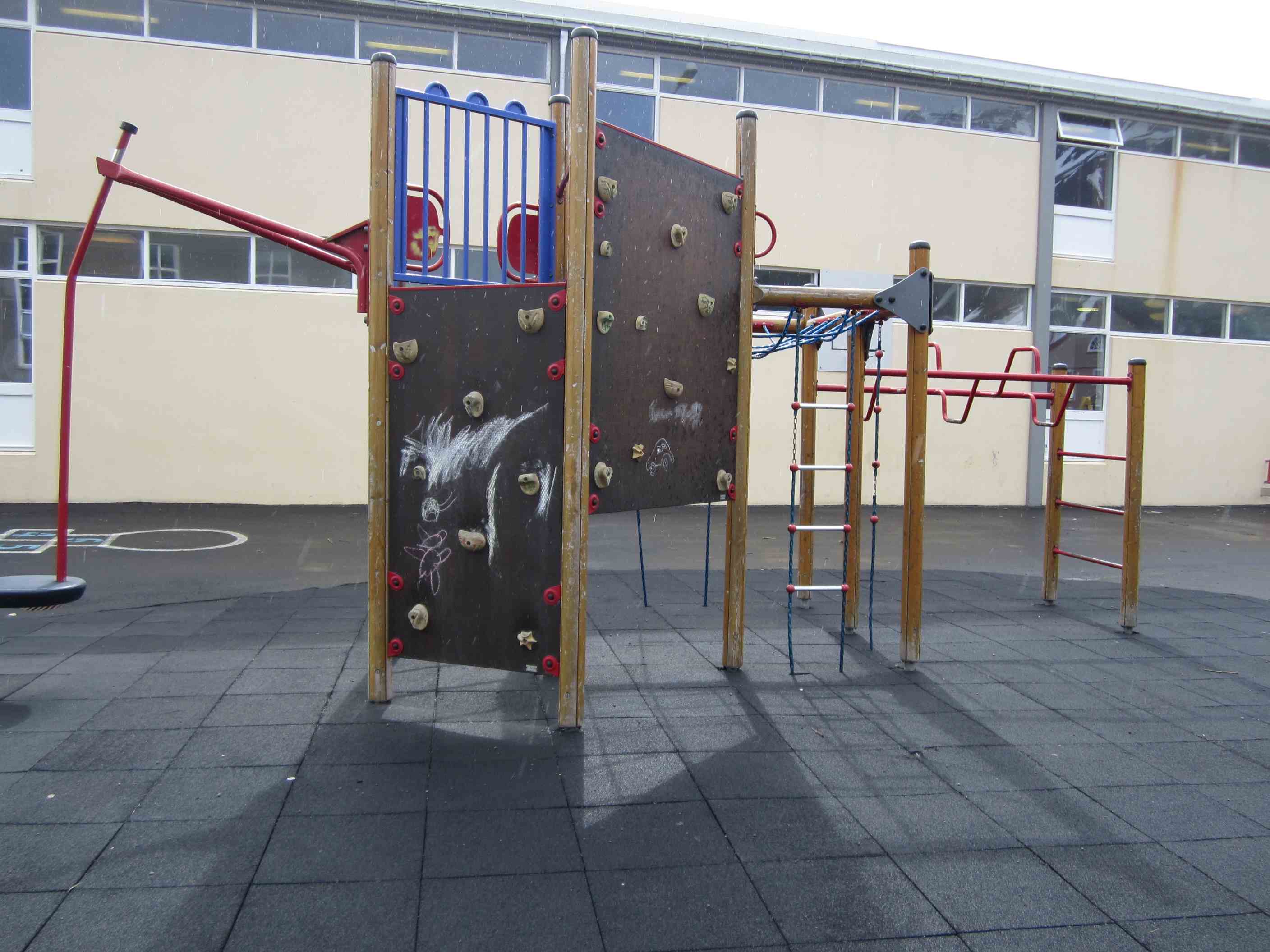 For those who have not noticed, the ski trail has been cleared by volunteers from the Ski Club.  This has uncovered a challenging mountain bike trail with some shoving up steep hills.  Skyline has been ridden numerous times over the past few weeks. There is also a new foot trail being built off the top of Skyline to the east to get more vertical on our trails and a better view of Valdez and Mineral Creek Canyon. Hopefully skinners have been putting in the preseason conditioning needed to prevent early season injuries common in skiing.
A reminder that the both sides of Mineral Creek Road above the bridge are off limits to motorized use including the ski trail. Last week I reported a four wheeler that blatantly went around a blockade with a posted sign as if it did not exist. This land is the property of the University of Alaska and they explicitly prohibit motorized us of any kind on their land. Skiing, hiking and other pastoral activities are encouraged. It's not just a winter thing. ATVs are damaging to the communities' nordic trail causing water bogs that interrupt proper snow grooming. If you see violator, a call to the local sheriff only takes a second. Take pictures.
Tabitha and I visited the local Climbing Wall for the first time which claims to be the highest of its kind in Alaska.  It's a nice facility and was impressed with the 20 or so that worked the wall. Open for adults Tuesday and Thursday night 7:30-9. No, I did not make it to the top!  But hey, it looks like a goal worth working for.
A nice new backcountry skiing video..
[vimeo]https://vimeo.com/113889338[/vimeo]
As far as a ski report, it might be a while. Record warn waters in the Gulf of Alaska and the Bering Sea along with a strong El Nino and of course global warming, winter is taking it's time grabbing a hold of Alaska. Thompson Pass above 3500′ has been getting light snow, but nothing to get excited about. Expect continued warm weather through the long term while snow is isolated to upper elevations. This may be the first time ever I've not skied Thompson Pass before or on October 15 since the early 80's.