Avalanche Workshops – Some Thoughts
When it comes to avalanche education, I remind myself that somewhere out there is something new to learn despite watching nearly 13,000 inches of snow fall over many winters in the Chugach.  Below are a lot of my thoughts on the latest in the avalanche world after attending two workshops.
As is becoming more common across the American West, avalanche workshops have become fall events. Sponsored by regional forecast centers and other interest, specialist from the field give 20-30 minute talks on a variety of topics ranging from human factors, risk management and 500MB trends for weather geeks like me. Panel discussions were interesting. Most presenters are incredibly knowledgeable about snow while other's dig in to the mind versus the snow about how skiers can better deal with slabs. I attended two workshops, one in Anchorage briefly last Thursday morning and the other in Seattle on Sunday.
Alaska Snow Safety Summit
My main interest in attending the morning session in Anchorage was the keynote talk by Mike Hopper, owner of Black Rapids Lodge. Mike is a fellow telemark skier who has been pushing the sport in the Alaska Range for the past couple decades. I got to know Mike in 2001or so along with his Fairbanks telemark buddies who were annual guest when I guided and operated Thompson Pass Chalet.
Mike has accumulated a wealth of experience over the years in the Alaska Range, thus his avalanche incident last season that resulted in the death of his partner has haunted me a bit.  Experienced skiers over 45 years of age have become the latest "group" to show a spike in incidents nearly equal to the 25-35 age group. Oddly, I now consider myself at increased risk at a time when I should be less at risk.
Mike was on a ski line he had mastered years ago from top to bottom. His partner was much younger than he, but strong and had done a few trips with Mike, including summiting Mount Hayes. While the route they took that day looks steep from the summer photo below, it's not extreme terrain and not much more technically challenging than either of the "Gulleys" in Thompson Pass. It's a classic Alaska Range V-shaped drainage, except at the top.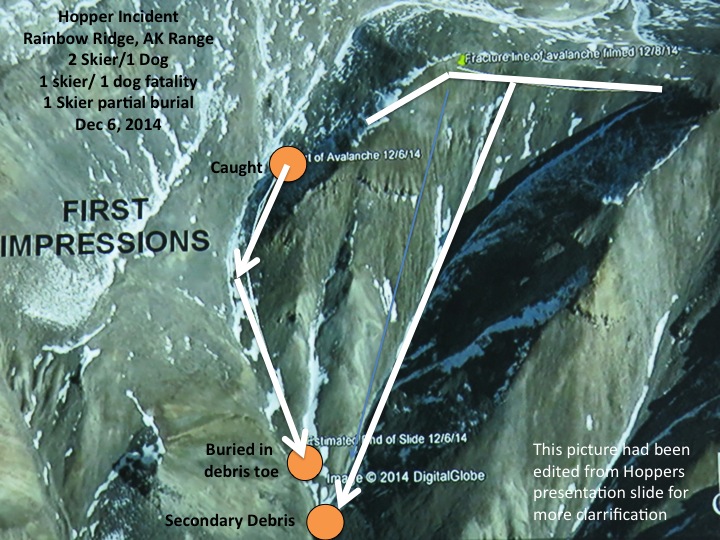 After Mike's presentation, it was hard to focus on the clues he missed because there was not that much snow to poke around at and seek clues. As happens all too often in any incident resulting in a scare or worse, ignoring clues seems to be pervasive. For instance, they encountered whomping in a shallow snowpack with increased slope angles ahead as they skinned.  In many instances this is a double-red flag, but under other specific types of conditions it might not be.  A closer analysis of this incident will add to the knowledge of this route for future reference or a guide book. The specific weather and snowpack structure at the time will be noted, building a formal avalanche data base by the newly established Eastern Alaska Range Avalanche Information Center, led by Mike.
What struck me about Mike's incident is his own survival. After suddenly being swept uncontrollably for what seemed like an eternity, he was buried with one hand sticking up towards a blue sky at the very toe of the debris field and figuring his partner was on his way his way to help him. After 5-10 minutes he realized no one was coming. Buried to his armpits and locked to his skis in the upright position, he had one free hand and a ski pole. Mike went into self rescue mode and mustered his supreme endurance and will-power, to save himself from one of the nightmares of ski alpinism. With a single ski pole and one free hand. he persisted… digging and shoving snow away with the ski basket til he freed his other arm. Then he was able to shift, bend and reach his shovel which was secured to the outside of his backpack. Had the shovel been stowed in his pack, his situation would have become hopeless he reflected in his talk.  He dug relentlessly freeing one limb at a time. After several hours he freed himself and quickly found his deceased partner and his dog not far away, buried shallow. He then skied down to the highway and sought help, no doubt emotionally spent, physically drained and fighting hypothermia. A few days later, much to the chagrin of the Valdez avalanche folks and the State Troopers, Mike and another ski partner properly assessed conditions and skied up to the accident site, recovering his partner and dog, and bringing them down to Richardson Highway
Within a week Mike was back in the hospital with severe lung issues, a result of breathing in silty sediment mixed with snow while being swept down the mountain which he described as similar to a 3-foot wave hitting a gentle sloping shoreline.  He was finally released eight days later.
I stayed for one forum discussion with government agencies chatting about a variety of topics and their role in avalanche safety in Alaska. Not much to learn on that agenda, but with the issue of funding as a topic it allowed me to present data on snow machine and ATV accidents I researched last winter. I questioned why the state sees the need to fund avalanche safety while the sledding community, which has some profound issue regarding basic safety, t needs to be prioritized in the context of my data. While 17 people died last winter (albeit on a record low snowpack), only one incident was avalanche related. Skiers on the other hand showed up only once statistically in all the categories with the Hopper incident. There was not a single SAR for a skier, yet 43 times state resources were sent to look for a sledder(s). I urged the state to prioritize grants focusing on general Sled/ATV safety education in rural Alaska and less on funding avalanche education for that user group. Sledders, like skiers, have plenty of private options to pay for their own education through organizations such as the Alaska Avalanche Association and local clubs. Though I did not mention this, avalanche education for children under 16 seems a bit of a stretch on many levels.  State funding to assist avalanche information centers developing timely weekend forecasts by paid observers and training for volunteers seems prudent on state lands in Hatchers and Thompson Pass.
Go figure with these figures from my data gathered last winter.
Alaska – Snowmachine/ATV Incidents Winter 2014/2015 (AST and other sources))
Total Incidents 87
ATV – 15
Total Fatalities 12
Injuries 25
SAR – 43
Crevasse -1
Avalanche – 1 incident
Alchohol – 15
No Helmets – 6
DUI – 17
Other – 1% (Assault, theft, escape, wildlife harassment..)
NEXT…..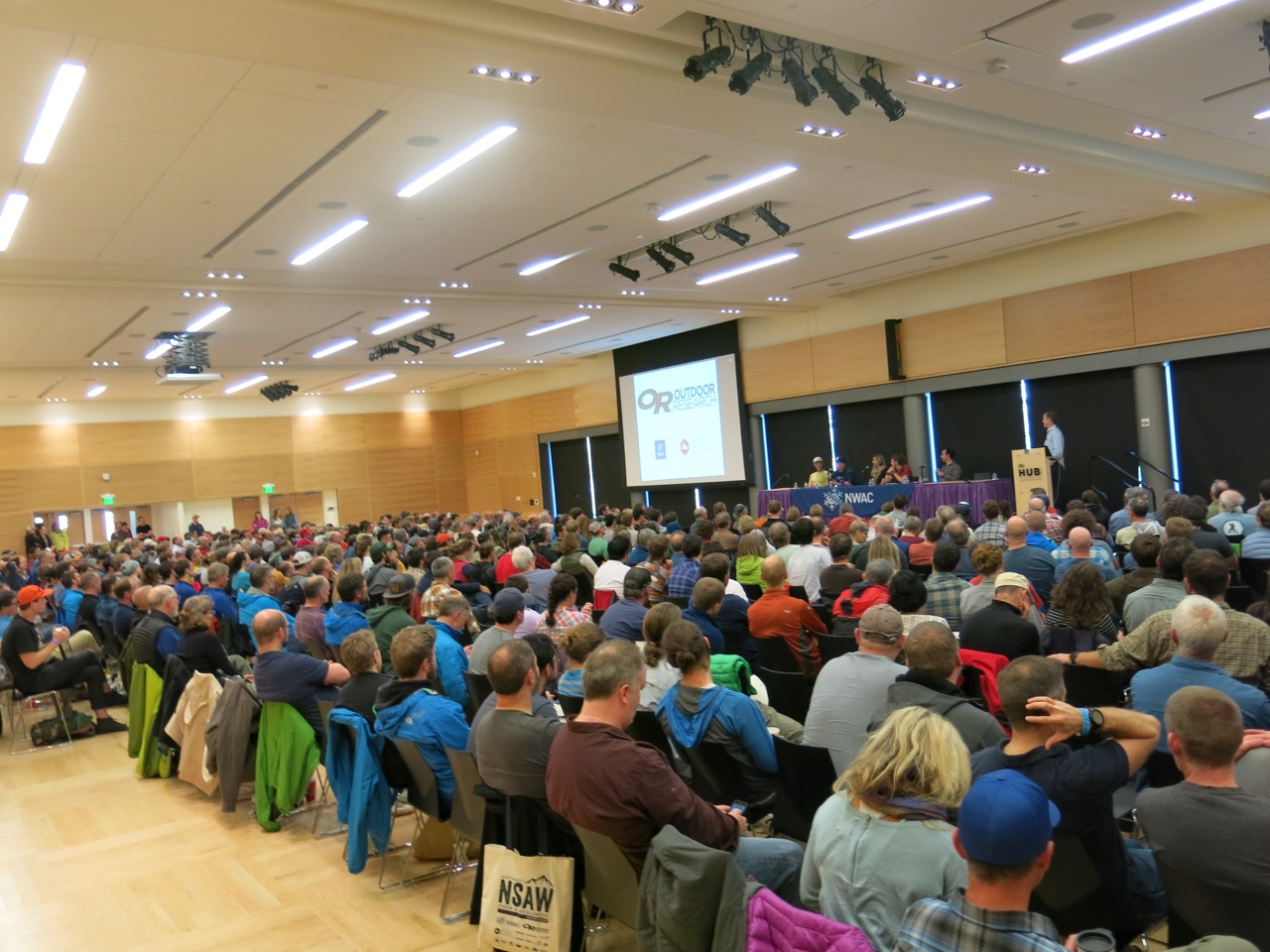 Northwest Avalanche Forecast Center Workshop
With a tight schedule, I left the small group of Alaskans committed to avalanche awareness for the masses, to a mass of over 600 avalanche practitioners, professors of earth sciences and the ears of fellow avalanche professionals at the University of Washington for an all day workshop with a slate of speakers that qualified for my undivided attention. The rapid growth of backcountry skiing has been stunning across the west and was obvious by the latest industry figures. It is the fastest rising winter user group. I wouldn't doubt if 90% of the attendees were skinners. (Valdez should bear witness to the rise in the sport as it searches for more economic ski action in Valdez. The potential is enormous.)
Margaret Wheeler(AMGA) spoke well on overconfidence and over- exposure in the backcountry. I'm always on the lookout for a new word related to snow,  and she delivered,  expanding on common terms such as moderate and extreme, with  "Moderistan" to "Extemistan" to rate terrain.
Pascal Haegell gave an update on "The Effectiveness of Airbags. which I saw presented at ISSW 2012 in Anchorage. Airbags are not perfect, in fact they help less than hoped. Not wearing the device properly is one of the traps that resulted in less success. My take home is that on a perfect, wide-open, continuous slope such as an alluvial fan with no major surface anomalies you stand a chance of riding it out on top.  If a slope is not perfect for a ride, you're in as much trouble as a person wearing a beacon. With that said, I will be purchasing a BD Jet Force Airbag for this season and wear a beacon.  My Three T's of avalanche survival are negated by Terrain Traps, Trees and Trauma, whether I'm wearing a beacon or an airbag.
Speaking of airbags, all heliski and snowcat companies in Canada will have airbags for their clients and guides this season. This topic was brought before the State of Alaska (OSHA) regarding the heliski industry last year. This request was opposed due to logistical and fuel economics. Obviously the Canadians looked to the issues as a challenge and more importantly, an opportunity to increase safety for clients and  their guides. Let's hope the heliski industry in Valdez leads Alaska and does the same.
One of the latest protocol issues being discussed in the avalanche community is skiing or sledding above others. It's becoming more of a problem as the numbers of people chasing untracked powder increases. With that at the forefront of the final presentation by Trent Meisenheimer on "Freedom and Anarchy in the Backcountry" he cited numerous serious incidents started by "others above others" in the mountains. This allows me to bring up the Valdez heliski issue, at this point, of landing above skiers or sledders, or sledders above skiers…… and yes, skiers above skiers. This happens all to often in Valdez as many of you have experienced. The rest of the ski world is recognizing the increased hazards of such action.  Everything seems to go big in "Valdezistan"…earthquakes, oil spills, extreme skiing…so perhaps a major avalanche incident in the future is becoming more likely when we crowd the Chugach…. and others.
Finally…
The Prophet of Telemark
The highlight of my trip was having lunch with Steve Barnett. (his Profile) Barnett wrote the book Cross Country Downhill in the late 70's. When I moved to Valdez and quickly an addict to all things snow, every backcountry skier at the time had this book. It was our bible to technique, attitude and eventually being some of the first to ski the big mountain slopes surrounding Valdez.
We bumped into each other and immediately a bond existed. Having read his book, I was eager to thank him. He was aware of my existence so we chatted up the state of telemark skiing and over lunch, explored it even deeper. It was truly special to meet the first "Prophet of Telemark". Today's backcountry skier should understand his technical contribution to backcountry skiing and it's roots. Steve is nearly 70 and still skis 3-pins and skinny skis in the northern Cascades because he can!