Alaska Wilderness Classic 2014
Thompson Pass to McCarthy as the crow flies?  Valdezeans Chis Shumate and Kalin King are on the trail as of 1030am along with other's from the area including Tory Dugan, Meg McKinney and Matt Kress.  For Chris, Kalin and Tory, it's their second attempt to complete the course though they ended up in….Cordova.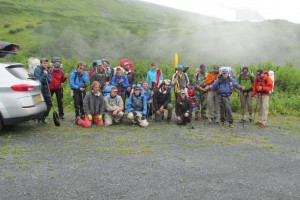 This "race" series began in the 1980's, created by Alaskan Roman Dial who occasionally dropped into Valdez for some ice climbing back in the day.  I remember after our traverse of the Chugach in 85′,  he organized the event along the same route and 8 skiers did it in 57 hours. The races course changes every few years and are typically over a hundred miles by some macabre route thought up by Roman.  It consists of a summer and winter series and is truly one of the toughest races in Alaska no matter where it's held. You are not allowed near a road.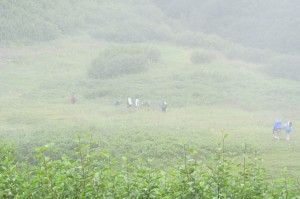 Sadly though, his son Cody Roman Dial is still missing in eastern Costa Rica after two weeks of searching. He no doubt follows closely in his dad's footsteps and was off on an adventure to where few travel as we all should do from time to time. We hope he surfaces soon.  He's done the Classic a few times.
22 competitors including two women showed up (2 late shows hopped out of a car after the start) at my winter haunt at the Hairpin Corner on the Pass. Due to permit issues, Roman has kept it off the radar for permits by running it real loose and casual around Parks and such.  Its not commercialized at all and it should not be. No spancer banners for competitors were seen.  You travel solo or with others. This is the last of three years in a row that this venue will be used and it's downright brutal. Class V brush, Class 3 water in pack rafts, cross the Copper River, and on they go for nearly 140 miles with most expected to finish in 4-6 days. Last year, a few teams bailed at the Copper and floated to Cordova to get back home. Most the racers I chatted with this am were carrying about 32-40pds including pack rafts. Lots of racer are returning this year with modifications and variations of their last attempt.
If you want more info check here …Alaska Wilderness Classic
I went to the finish line and did some vid……and then they simply disappeared.
[vimeo]https://vimeo.com/102472463[/vimeo]