Alaska Heliski Industry Under Pressure to Change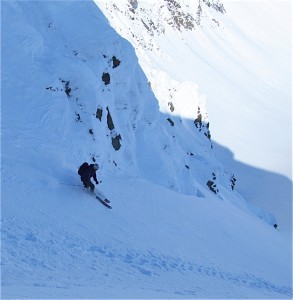 The Alaska Dispatch reported today that the company Alaska Helisking is being sued by the family of a client who died skiing outside Haines, Alaska.   This comes on top of the State of Alaska's recent hearing before the Occupational Health and Safety Department about bringing some needed improvement in how the heliski industry operates in Alaska.
I participated in the hearing and have submitted comments which are presented below.  Though I can't say I've ever heliskied, there is not much difference in how one handles safety in the mountains once you step outside a helicopter as a guide in the Chugach.
June 10, 2014
To : Mike Buck
       State Of Alaska Department of Labor
       Safety Consultant, Occupational Safety & Health
         Thank you for taking the time to address the ongoing safety concerns of the heliski industry in Alaska. Since the industry arrived in Alaska, numerous guides have been killed along with clients. These were tragic and preventable incidents.  Guides and clients will continue to be injured in many ways not specific to avalanches. This is unacceptable.  I base this on my experiences as a mountain ski guide in the Valdez Mountains for the past 30 years.   During this time not a single client of mine was caught in an avalanche nor injured while skiing.  
          Based on the meeting last month held by the State Alaska a number of issues were discussed. Below are my recommendations based on that meeting:
          1. While the emphasis of any proposed regulations is directed to guide safety, it is my belief that by not including client safety, you are doing the public a disservice. What's good for the guide should be good for client in regards to improved safety proposals, i.e. air bags.
      2. Complex Land Issues -Heliski operations on BLM and Chugach National Forest receive closer scrutiny during the permit application period and during their annual operations. That cannot be said of the State of Alaska. Since the establishment of the Thompson Pass Special Use Area designation in 1997, not a single recommendation has been brought forth. The promised oversight never came to fruition to address conflicts amongst all winter user groups. This has resulted has resulted in a fairly "toxic" business landscape. The State of Alaska is to blame for this environment, but can quickly rectify much of this with a closer relationship between the Department of Natural Resources and OSHA.    
     This lack of regulation that starts at base operations and ends at mountain operations has resulted in a systemic culture of non-compliances with land use policies and other regulations.  This culture has also brought safety concerns from other user groups with shared areas with the assumption that no regulations separating user groups contributes to a safe environment.  No where in the state of Alaska do heliskiers operate in an area over so many public recreationalists as Thompson Pass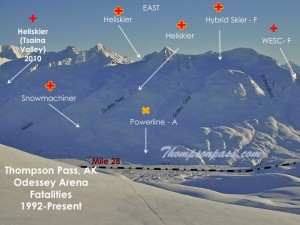 With heliski operations allowed to operate anywhere, including on each other, this has resulted in competition for small specific areas by up to 5   operations in Thompson Pass.  In contrast, Canada and the Chugach National Forest have strictly limited flight areas to three operations. The statistics seem to indicate that this is safest land use policy for everyone. While there would be strong be opposition by the heliski industry for tenured areas on State lands, this is one option to mature the industry away from it systemic problems.
      3. Airbags – While airbags may introduce some operational challenges for heliski operations, statistics continue to show that a guide or client's chances of being buried are greatly reduced if they wear an airbag. From an Alaska perspective this is great, in that in most documented failures of the airbag have been in trees, something we don't have to deal with.  This is the best available technology in regards to avalanche safety available today and the foreseeable future.  The FAA and the heliski industry need to work closer to solve this issue with safety as the primary concern not "more weight increases fuel consumption cost." Surely if ski patrollers can carry explosives on helicopters for avalanche control, airbag can be modified and handled properly, be it pressurized canister or battery operated.
     One comment at the meeting regarding the packs indicated a weight issue and how that would affect the way a guide skis.  In response I can only say that if a guide's pack is too heavy with safety equipment, then he needs to change his terrain so he can ski with more control.
     Air bags should  be required for all clients and guides by 2016/17
 4.  Sharing Snowpack Data – As long as unregulated helisking is allowed on state land, it does not serve in the best interest of a heliski company to share data about where there is good or bad snow.   That would be like a halibut skipper sharing his secret fishing hole.   While it would be noble for the operations to do this, they have in the past given some token observations to the local avalanche information center for a few weeks each season.
     As a resident guide, for the past 20 years I have shared my daily stability reports and forecast on the front and center of my web site from October through April most seasons.
 5. Continued Education For Guides – Guides should have a minimum Level Two Course completed through an approved course by the American Avalanche Association. Guides should be required to take a Level Two course every 6 years regardless of experience. (This is something I do.) While some criticism of the American Mountain Guide Association qualifications came from current heliski operations, that point is mute by the fact that this process is taking place. Heliski companies can hire whomever they please with out regard to any minimum requirements, such as "recency" in the area that they operate.
6. Accountability – While we would like to improve safety in the heliski industry, we have no idea how safe or unsafe it really is. Despite 20 years of operating in the Valdez Mountains there are no records regarding guide or client injuries because they are not required.   They should be required and made available to the public at the end of each operating season as incident reports.
     It is recommended that the heliski industry on state lands be required to file a standardized incident report on any injuries that requires immediate medical attention, be it an avalanche, skiing out of control, crevasse injury and rescue, etc.. Avalanches in which a client or guide is swept off his/her feet should be recorded if not for the simple reason of collecting avalanche incident information for the national database. This gives researchers insight to the causes of human-triggered avalanches. It would give the State of Alaska a way to monitor safety and identify trends. The general ski public would then be able to identify which is the safest operation, not the most hyped.
 7. Whistle-blower protection – Heliski companies require guides to sign non-disclosure documents. Guides should be able to a call any regulatory agency and bring to their attention any safety concerns or violations of any applicable law with out backlash.  I know from my experience with the oil industry, this one change brought a whole new culture of safety.   This is one of my strongest recommendations.
     With that said, a few of the operations in Valdez seem to operate with due diligence. But without real data it's hard to tell.
     In conclusion, as with most accidents in the mountains, the human factor plays the biggest role. Ignoring common clues and not sticking to established protocols are a few of the reasons.    Unregulated helisking on state lands is another obvious contributor to the human factor of heliski operations in Alaska in that they can act with impunity. This will be a difficult process and no doubt bring strong opposition by the heliski industry, much like in the past with these efforts.
Sincerely
Matt Kinney
Box 1540
Valdez, AK 99686